the Journey to MVP
At INFITX we are experts at supporting organizations involved in building Inclusive Instant Payment Systems (IIPS) and have over 100 years of industry knowledge and experience doing this. Draw on this experience to avoid common pitfalls and delays to fast-track your scheme to both short and long-term success.
Continuous delivery and continuous improvement
At INFITX we follow the Agile methodology and believe that agile done well can massively impact the success of a project. This means that it is important to regularly deliver system improvements as soon as they are production-ready complete and deliver value. Following this idea, when building a scheme the initial focus should be to deliver the minimal product that provides value for all participants. This we call the minimum viable product (MVP) that must in a scheme sense, provide both technical value and business value to all involved.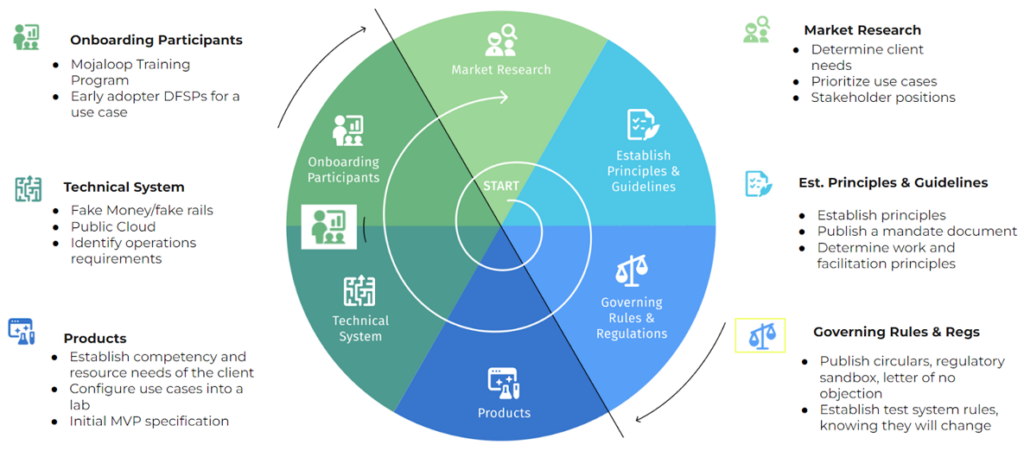 This graphic illustrates the inclusivity and power of iterative cycles. The spiral starts in the center with a small intensive collaborative effort that cycles through the progressive activities in the delivery process. As the spiral progresses through the activities it expands outwards and work effort and participation increase with the progression of certainty, the confidence of knowledge gained, and support in the wider ecosystem of the Scheme until a milestone is achieved and the spiral starts again with the next phase.
Journey to a Scheme MVP with community collaboration
At INFITX we believe in the level-one principle that the Rails and Rules of an IIPS scheme are the places where organizations should collaborate. In support of this, we are involved in various community workstreams to help consolidate the communities expertise and experience, and knowledge to initially define and then improve on the journey that one must embark on when building a scheme. Below is a summary of that journey to building a Scheme MVP and how we at INFITIX can support you through that journey. In the spirit of Agile and collaboration, this is being continuously improved.
Contact Us if you would like to be part of that collaboration.
Building a Scheme is multifaceted with multiple processes happening in parallel, which makes describing this journey difficult. To simplify this we first describe the journey from the sequence of goals/milestones that need to be met, then we will view it from a structural perspective, and lastly from a functional view.
---
The Scheme MVP Goals Journey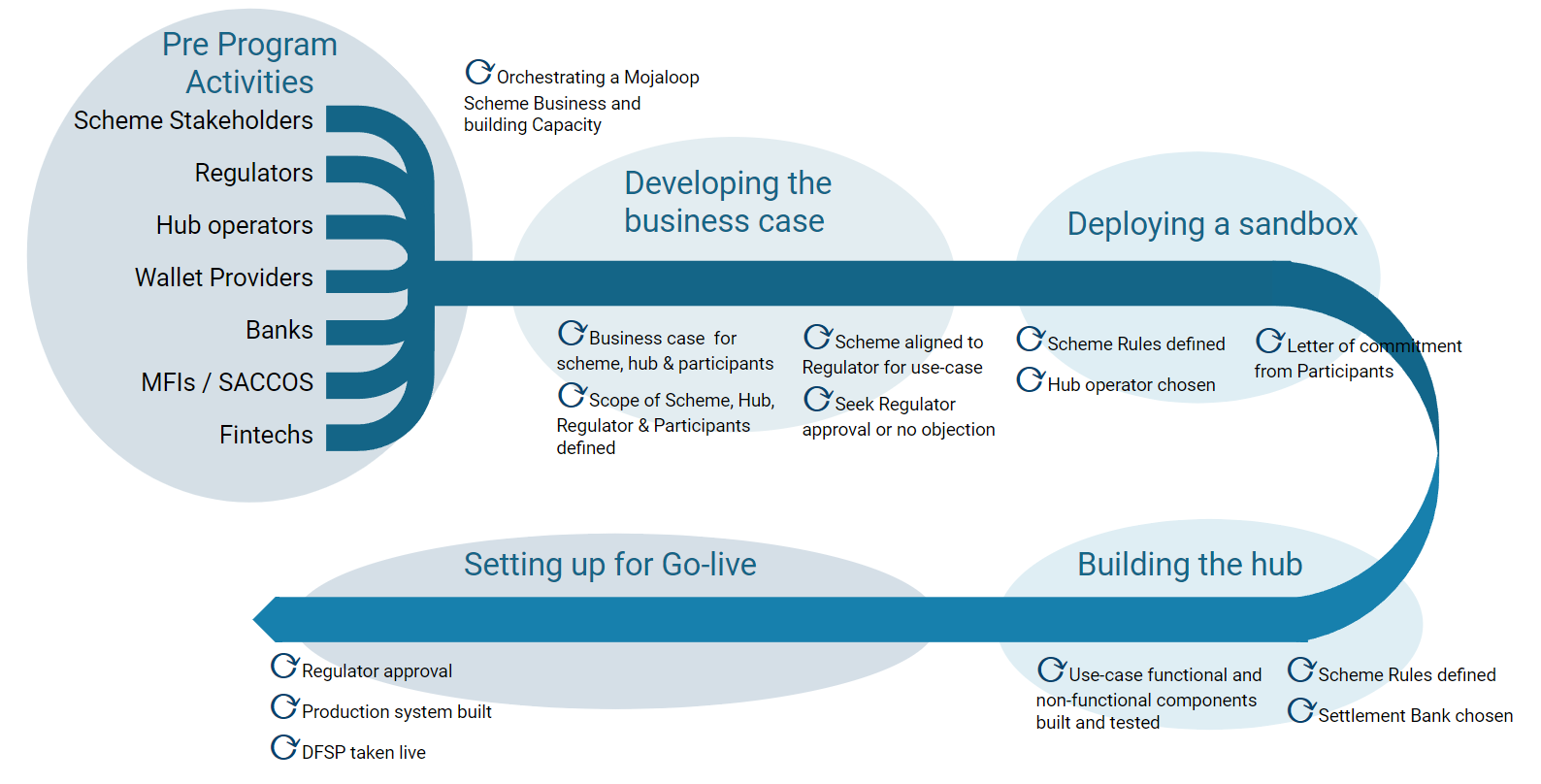 Workshops: Scheme Stakeholders
Workshops: Developing the Business Case
Workshop: Developing the Business Case
Workshop: Deploying a Sandbox
Workshop: Deploying a Sandbox
Workshops: Building the Hub
Workshops: Building the Hub
Workshop: Setting Up for Go-Live
Workshop: Setting Up for Go-Live
Workshop: Setting Up for Go-Live
Choosing Initial Use-Case
Commitment from Regulator
Settlement Bank process defined
Minimum participant connections reached
Scheme Legal entity defined
Production system built and transacting with real money
---
The entities of a Scheme
Here is a view of the entities of a scheme illustrating how they fit together and where the boundaries of responsibility and scoping of the scheme are defined.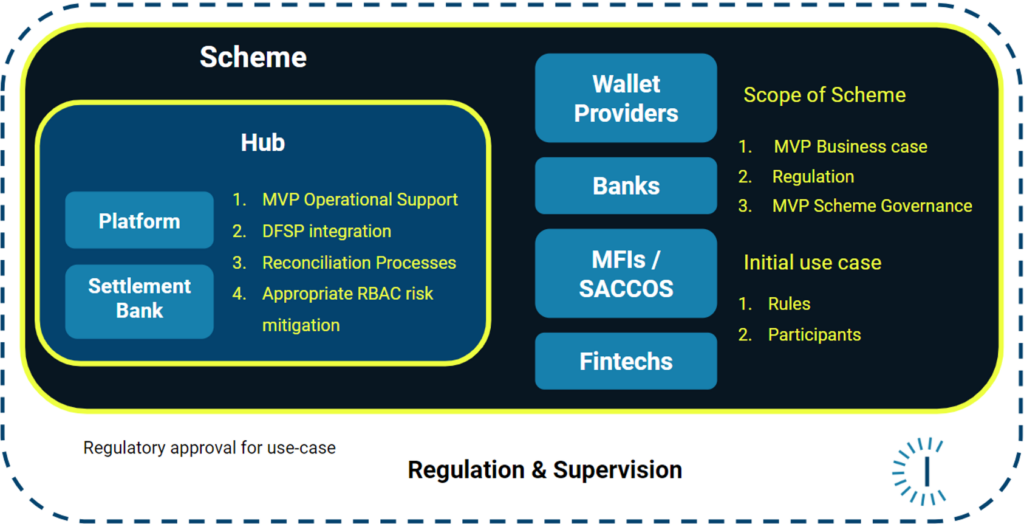 ---
A Program view of the Journey to Go-Live
This view provides a Program style requirements view of the Journey and which facets of the Journey are initiated and worked on in the Program Stages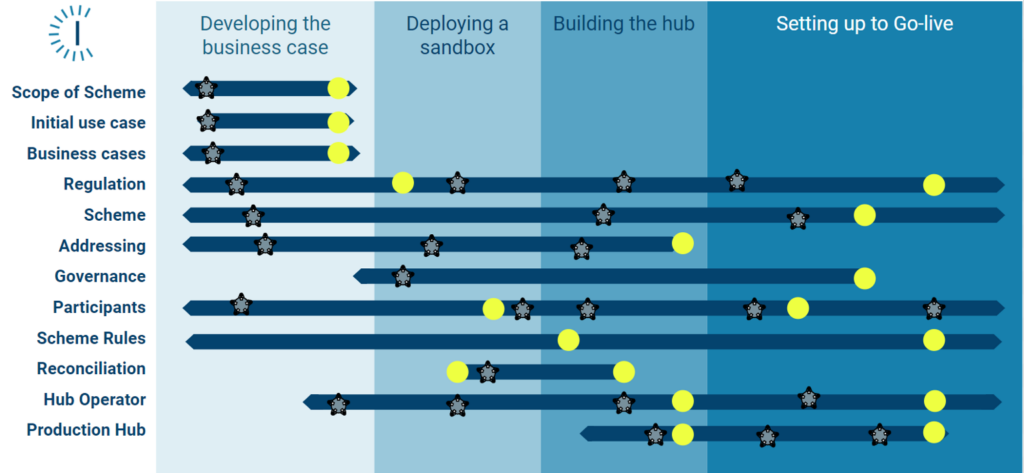 We offer a range of support from a light touch advisory, to the full supportive package, to the intensive package for maximum impact in the shortest possible time. Our expertise range from scheme and governance design to infrastructure design deployment and support to system architecture and build and validate.